The Hollywood Sign
Tuesday, 23rd February 2010 by Kevin Batdorf
The world famous Hollywood Sign is an internationally recognised symbol of American heritage and culture. While best known for its many television and movie cameos, the sign itself has a long history, and has undergone a few nips and tucks during its 87 years.
Google Sightseeing first visited the Hollywood sign nearly 5 years ago, and since then Google's imagery hasn't changed drastically – it's still only just legible from above. However, Google's Street View cameras have since managed to get near enough for a street level photo.
Real estate tycoon Harry Chandler built the original sign in 1923 to promote his new development, "Hollywoodland." The original sign, spread across the top of Mt. Lee, included the additional word "land", and in a move to attract marketing attention, blinked at night – starting with "holly,", then "wood", ending with "land".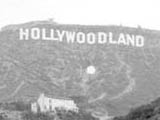 Image courtesy of the Los Angeles Public Library
After World War II, the real estate boom diminished, and the city of Los Angeles acquired the sign. By 1949, just as the TV and movie business was in full throttle, the city removed the word land and gave the sign a well-needed makeover. The then 26-year-old sign looked young and fresh again.
However, the sign didn't attract much attention for the next few decades. By the early 70s, it was once again falling apart. The most notable modification was in 1976, when pranksters changed the sign to read "Hollyweed" in response to recently loosened marijuana laws. Since then, the sign has been victim to numerous other alterations, mostly politically motivated.

The back of the sign, as seen on Bing Maps' Birds Eye View
Finally in 1978, thanks to Playboy's Hugh Hefner, the famous sign had a new hope. After auctioning off the old letters, the Hollywood Sign was rebuilt, with each letter 1.5 metres (5 ft) shorter than the original. Today, it stands 14 m (45 ft) tall, and 137 m (450 ft) wide, and does not come with blinking lights. It receives regular touch ups though, and still looks good, even at 87.
Check out the official site for more info.