Loughareema: The Vanishing Lake
Thursday, 7th October 2010 by Alex Steinberger
The nigh unpronounceable Loughareema (Loch an Rith Amach) is, at first glance, nothing more than one of the many lochs and bogs that dot the Northern Irish countryside. That is, if you happen to be lucky enough to see it at all. In fact, you could drive down the aptly named Loughareema Road, ply right through the middle of the loch, and still never even know it was there.
All existentialism aside, Loughareema is very real and can be visible if seen at the right time. The loch possesses a unique topographical feature known as a chalk "plug hole" that often becomes jammed with peat causing the Loughareema depression to fill. The loch then drains, often quite rapidly until the uneducated passerby would never even know it existed in the first place. Here we see that the Google Street View car was lucky enough to see the loch in its "plugged" state.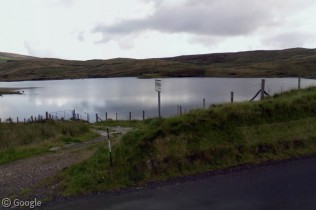 And here it is almost completely devoid of water, save a small stream and lots of mud: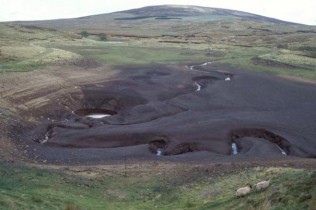 © Copyright Mike Simms and licensed for reuse under this Creative Commons Licence
For an interesting comparison of Loughareema when it is full and when it is "invisible" take a look at this Google historical satellite imagery. The first aerial photo, taken in 2001, shows only a small stream, whereas more recent photo shows the loch in all its watery glory.
It is entirely possible that even the road engineers who built Loughareema Road were fooled by its disappearing/reappearing magic trick. Due to its location right smack in the middle of the loch, the road is often known to be covered with water, making crossing treacherous.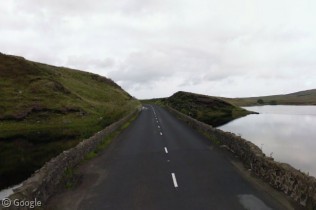 It was during a particularly bad state of flooding that, in 1898, a colonel rushing to catch a train in the nearby town of Ballycastle misjudged the depth of the loch's waters causing himself, his coachman, and two horses to meet a watery end. In fact, local lore states that the coach and its passengers still haunt Loughareema to this very day… of course only when the loch is full!
Thanks to The Guardian.