The Bonnie, Bonnie Banks
Monday, 19th September 2005 by Alex Turnbull
Well we've all finally recovered from James' wedding which took place this Saturday, and in true Scottish style there was a fantastically enthusiastic Céilidh which went on until we could barely stand up any more! As is traditional, we ended with loud renditions of Auld Lang Syne and The Bonnie Banks o' Loch Lomond.
And so, to continue the celebration, here are those bonnie, bonnie banks of Loch Lomond!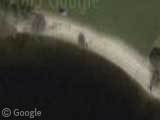 Loch Lomond is the second largest freshwater loch (or lake) in Great Britain in terms of water volume (as Loch Ness is much, much deeper), but it is Scotland's largest loch when measured in surface area. Interestingly, some of those islands you can see in the middle of the loch are probably Crannogs, artificial islands built in prehistoric periods.
There's loads of stuff to see on and around the Loch too. Just off the shore of the village of Luss (where they filmed that great Scottish export Take the High Road), you can see someone enjoying a spot of water-skiing.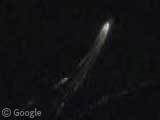 Further south you can see the isle of Inchmurrin (a very large inland island by British standards), where the contrails of a jet are still visible. Although the aircraft itself has flown into an area of low-res, my guess would be a low flying fighter-plane, as they're forever buzzing around up there.
Further south still and we get to the town of Balloch, where you can see the Loch Lomond Shores visitor centre and Drumkinnon Tower, which even has an IMAX! (Why does Balloch have one and Edinburgh doesn't, eh?) Just to the north floats the newly-restored Maid of the Loch paddle steamer.
Finally on the east of Loch Lomond, we can see the peaks of Ben Lomond (the southernmost of the Scottish Munros), at the foot of which runs part of the West Highland Way. In the height of summer (when this photo must have been taken, trust me) note that there's still snow on the summit, even though it's pretty small at just 974 metres.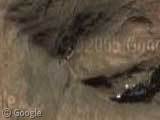 Phew, what a lot of links! Here's just one more to the Loch Lomond homepage, which has lots more information about everything you could possibly want to know about the area 🙂
Thanks go out on James' behalf for all your comments of congratulations, he should be landing in Aruba as I post this… while we're all stuck in chilly Edinburgh freezing our collective arses off!