Cable Skiing
Tuesday, 18th November 2008 by Ian Brown
Until today when I came across this suggestion, I had no idea it was possible to water-ski without a boat. I now know that cable skiing (wikipedia) is a growing phenomenon around the world. This facility in Germany has a great image of somebody just after they completed a jump.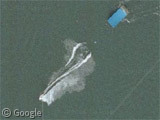 Previously on Google Sightseeing: Water-skiing on Loch Lomond
Thanks to Martin Hensen.