The Skeleton Coast
Wednesday, 19th November 2008 by James Turnbull
Namibia's Skeleton Coast is named so for two different types of skeletons that littered the beaches: whales and ships.
Thanks to the end of mass whaling the whale bones are now all gone, but the bones of ships remain, very slowing rusting away.
For example, the Eduard Bohlen ran aground here way back in 1909.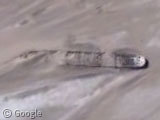 There are purportedly thousands of ships lining this coast, thanks to the gale force winds, thick fog and ferocious surf.
The Otavi ran aground in 1945, with a load of Guano she was shipping from Mercury Islands.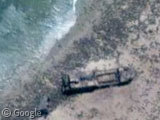 Once run aground, the sailors are usually also destined to add to the coast's name, as the previously featured Namib Desert is totally inhospitable.
Despite this, someone once thought it was a good idea to build an oil rig just inland. But just like the whales, ships, and sailors, the rig is now a rotting skeleton.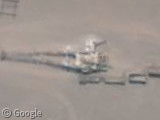 Since 1971 the Skeleton coast has been a protected National Park, and the old rig does provide good shelter for the local bird population.
The most famous of the Skeleton Coast's wrecks was the Dunedin Star cruise liner, which sank just off the coast in 1942. The dramatic rescue attempt included the additional wrecking of a rescue boat and small plane, and the whole story is documented in John Marsh's book Skeleton Coast.
Thanks to sasroodkapje's fantastic visible shipwreck collection and Artificial Owl, who have ground level images of the oil rig.