5Pointz Aerosol Art Center
Friday, 4th March 2011 by Ian Brown
While this may look like a graffiti-covered abandoned factory such as you might find many parts of New York, it is in fact a graffiti-covered abandoned factory in New York that has been converted into a studio space for artists - the 5Pointz Aerosol Art Center.
Commonly known as the Institute of Higher Burnin', 5Pointz was named in an attempt to unite aerosol artists from New York's five boroughs. However, given its apparent reputation as a 'graffiti mecca', it has attracted artists from all over the world, eager to show off their talents on the walls of this 18,000 m2 building. A combination of murals and tags covers almost every inch of the exterior walls.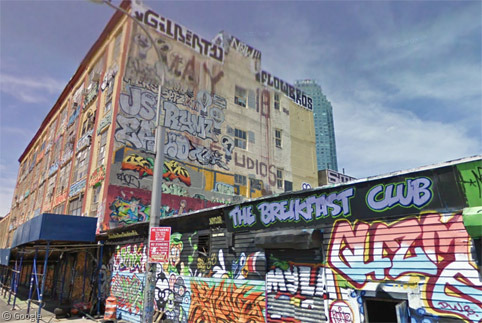 The building's curator, artist Jonathan Cohen, hopes to develop it into a graffiti museum and school for people who want to develop their aerosol skills. While we can't find close-up images of any artists at work, we do get a distant glimpse of some people in a cherry-picker working at about the 4th floor level.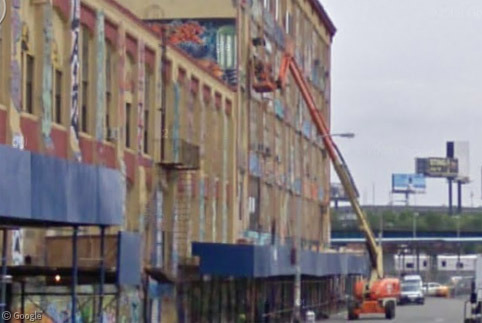 Approximately 200 artists take advantage of affordable studio space inside the building, but it's the sidewalk-to-rooftop exterior projects that really catch the eye. While the official website highlights some pieces, it unfortunately doesn't give us any background about who painted any particular works, or what they represent.
However, the meaning of one piece on the front of the building is clear - a 'get well soon' wish for an artist who was injured in an accident in April 2009. Following this incident city officials closed the building until repairs were made to meet safety standards.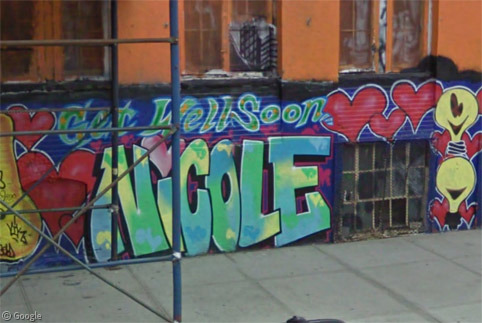 Here are a couple of other pieces that I personally enjoy, you should definitely take a wander round the building on Street View and post your own favourites in the comments.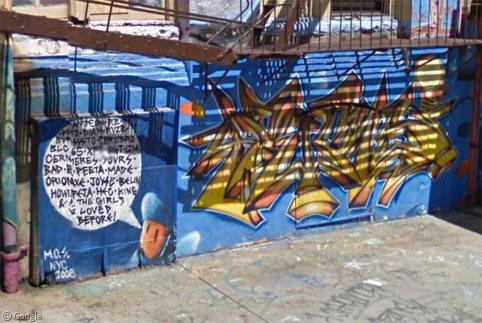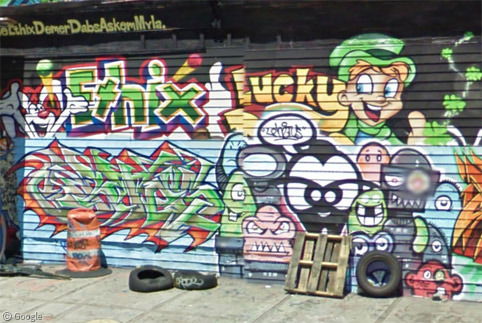 The rear courtyard and other walls may not be visible on Street View, but passengers riding trains on the nearby tracks get a really good view. There are a number of good videos on YouTube, including this extended tour.
If you want to learn more, you can visit Wikipedia, this detailed history, or the 5Pointz web site, the address of which is helpfully painted right there on the side of the building: