Rock am Ring
Thursday, 14th July 2011 by Chris Hannigan
You thought it was hard to find a parking spot in your town? Take a look at Google's new satellite imagery of Germany's Nurburgring…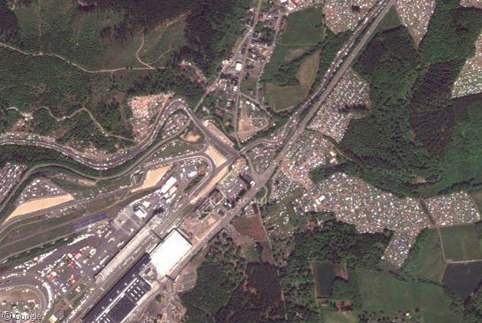 Every conceivable speck of open land has been packed with vehicles all around this legendary Grand Prix circuit. But why is everyone here? It's not a race, because the cars are parked all over the race track – not just on the small Grand Prix circuit and its parking lots, but even the mammoth 13-mile Nordschleife track.
In the fields around the facility you can see that the land is filled with tents, having been turned into a massive campsite – even spilling into the open land around nearby residences.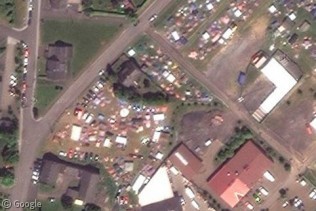 With that many cars in one area, the surrounding roads were bound to be affected, and we can easily spot the steady flow of traffic moving into the area on the 258.
Since this can't be a race weekend, this incredible surge of people must be here for the massive annual Rock am Ring music festival. Behind the Grand Prix paddock area we can see the huge centre stage which has been used in the past few years by acts such as System of a Down, Coldplay, and Guns N' Roses.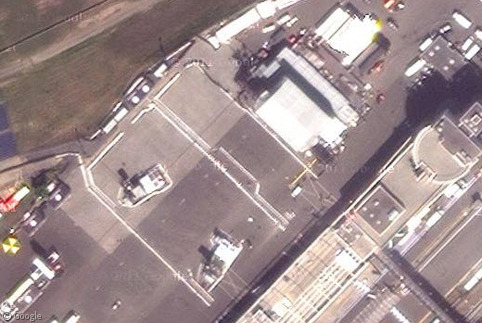 There is a parallel event that takes place at the same time in Nuremburg (but the imagery there was captured on a different weekend), called Rock im Park, and together the two venues attract over 150,000 visitors.
With such an enormous number of people in one place, there's no way everyone would be able to catch even a glimpse of centre stage, so down in the infield section of the Grand Prix circuit we find the second stage called O2 Alternastage, and south in GP turn one we see the third stage called Clubstage.
So the mystery is solved, and thanks to Google's decision to release this particular imagery, we get an incredible aerial snapshot of one of the world's largest festivals! To read more about this year's Rock am Ring festival, visit rock-am-ring.com.