The Walls of Ston
Thursday, 15th May 2014 by Ian Brown
Although the walls in question are made of stone, the title of this post isn't missing an 'e'. Ston is a town in Croatia which is the proud owner of Europe's longest structure. The walls of Ston are defensive walls of incredible architectural and cultural significance that were originally built in 1461, much of which still stands to this day.
Originally more than seven kilometres (4.3 miles) long, but now partially demolished, 5.5 km (3.5 miles) of the walls remain between the town of Ston and neighbouring community Mali Ston (which means "Little Ston"). Five fortresses are also still standing, along with half of roughly forty towers. Although it's a fraction of the length, and has nothing to do with China, that doesn't stop it from being sometimes referred to as "The European Wall of China".1
Built by the Republic of Regusa) to protect a narrow strip of land on the approach to Dubrovnik, which lies 55km (34 miles) to the south-east, Ston was a town of just six streets built inside heavily fortified walls.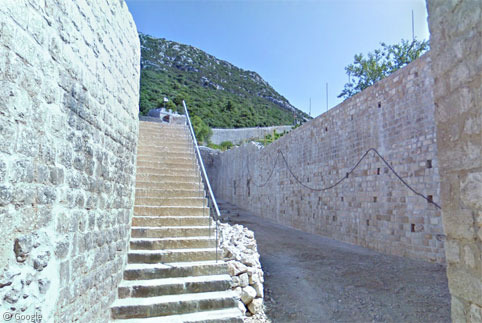 The walls had fortresses at its five corners to defend the town.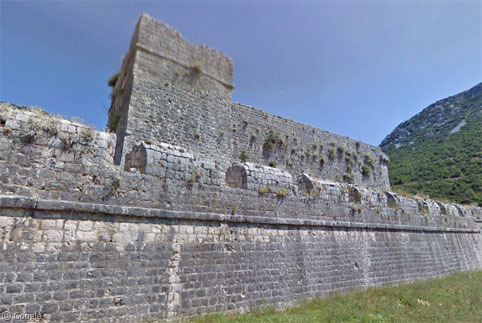 In addition to the initial military defense purpose, the walls soon served another purpose – to protect the commercially valuable salt ponds which are situated just outside the town, and which are still in use today.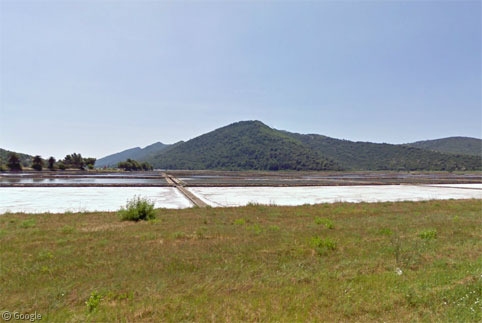 Beyond two of the fortresses, a pair of walls head directly north up the hillside and then stretch north-eastwards towards Mali Ston. They range between 5 and 10m tall (16-32′).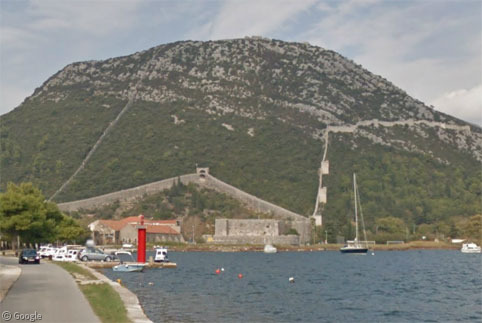 From a nearby road we can see several of the square defensive towers which were constructed at intervals along the walls.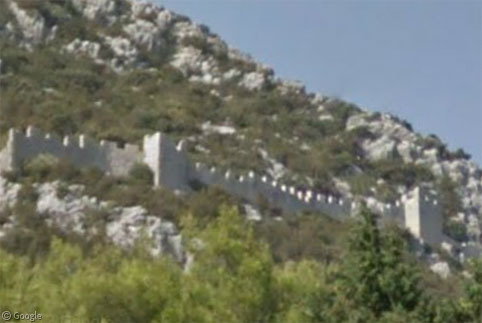 Larger bastions were placed at strategic locations.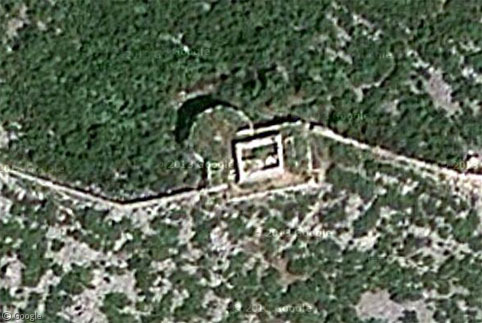 A short distance from Mali Ston, the two walls merge and continue on to the smaller town.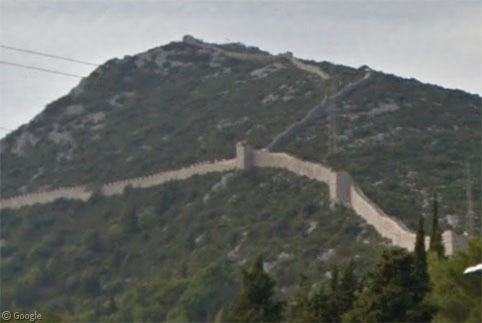 The walls terminate at a small fortress which overlooks Mali Ston and its picturesque harbour.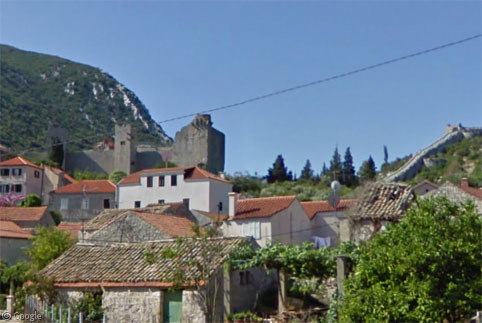 This view from across the inlet from Mali Ston gives an excellent perspective and an idea of the massive scale of the walls.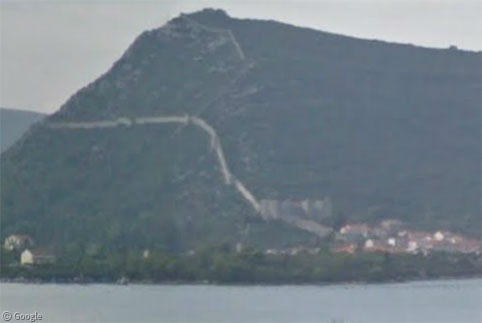 Following a devastating earthquake in 1996, the walls underwent many years of restoration and only reopened to tourists in 2009. Despite the historic significance of the walls, Wikipedia has only a short page about them, but kuriositas.com has more details and many pictures.
---
Which makes zero sense to us, but there you go. ↩