The Great Mosque of Djenné
Tuesday, 18th March 2008 by Alex Turnbull
Here in the city of Djenné, Mali stands the Great Mosque of Djenné, which is the largest mud brick building in the world.
The first mosque was built on this site in the 13th century, but was later demolished, so the current structure dates from 1907. It was built using bricks of sun-baked mud, with mud for mortar, and is coated in a plaster mix which is basically just mud.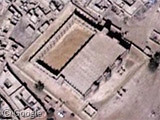 Using nothing but mud-derivatives doesn't make for a very sound structure, so the building requires frequent repairs. To aid this process bundles of palm branches have been added into the walls to support the structure and act as a sort of scaffolding climbing wall for the repair work.
More info about the Great Mosque at Wikipedia and pictures on Flickr.
Thanks to Sven van Heel.