Large Type
The 2002 design of the Heartland Country Corn Maze near Harrisburg was a coyote howling at the moon (with the letters USA in the lower right corner). This year they drew a 6.6 acre triceratops. Thanks: David Thornton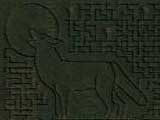 After some yellow planes, here's some giant yellow people, which looks like a huge 'children crossing' sign painted in a school courtyard in Paris. Thanks to DDA.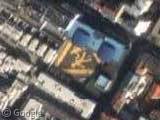 Giant writing in Mexico: "PROMESAS". Using my excellent Spanish skills I translated this to "Promises", although who's promising who what I can't tell you. Thanks: Timo V Tikansalo & marwan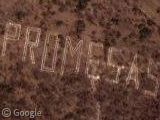 Just by looking at the shape and colour of these tiny cars parked outside an Australian car dealership I can identify them as Hyundai and Audi cars. Pretty impressive, huh? Thanks: shea marshall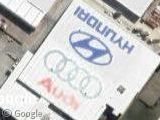 Perched on the side of Mount Zion in Colorado is a giant 'M' for the Colorado School of Mines. The school claims that it is the 'largest electronically-lit school emblem in the world', a claim which is disputed by Brigham…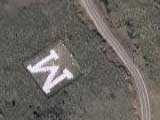 Woah! Somebody really, really likes pecans! Thanks to Steve Andersen and William Eckley.