Structures
Another impressive shadow – the Seattle Space Needle. The red and purple blob next door is the Experience Music Project. Thanks: Phillip Harrington, Mike, many others.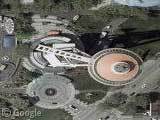 The CN Tower and Rogers Centre (formerly the Skydome, home of the Blue Jays) are in downtown Toronto, Canada. Look for the tower's shadow to see its shape. Thanks: Mike Pegg, many others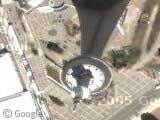 I had no idea it looked like this!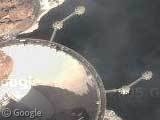 Only just legible, but very cool, the Hollywood sign. Now I don't need to go there to see it.