After my faux pas of calling Walt Disney World in Florida "Disneyland" a few people submitted the real Disneyland in Anaheim, California.
Reader Tim Gregory found the 80 foot tall world's largest tyre in Michigan. It apparently started life as a giant tyre-shaped ferris wheel at the 1964-65 New York World's Fair, and was moved to Allen Park, Michigan to be a…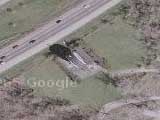 Especially for Andrew Scott, we're finally posting some trains 🙂 Union Pacific's classification yard in North Platte, Nebraska is the world's largest railroad classification yard. The yard is made up of 315 miles of track, and up to 10,000 railroad…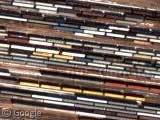 Props for this one go to Quentin and Peter Grabowsky, who both sent us this pretty darn huge message, which is apparently directed to the airmen flying in and out of Offutt AFB near Omaha, Nebraska.