The Unisphere
Tuesday, 12th April 2005 by Alex Turnbull
Remember the scene at the end of Men in Black where the flying saucer crashes through a huge globe? Well this is it, the Unisphere, in Flushing Meadows Park, NY. Not very interesting at first glance, but check out how cool the shadow is!
Many thanks to Paul for this one. He says:
The Unisphere was the symbol of the 1964/1965 New York World's Fair. This 12 story high stainless steel model of the earth was designed and fabricated by the United States Steel Corporation and remains on the site at Flushing Meadow Park today.
And Wikipedia says:
It's the world's largest global structure, rising 140 feet and weighing 900,000 pounds
Very cool.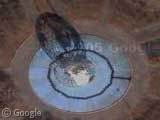 Thanks also to Todd W, Yorkie, Andy Baio (Yes, that Andy) and anecho.