Cadillac Ranch
Friday, 13th May 2005 by Alex Turnbull
This is Cadillac Ranch on old Route 66 outside Amarillo Texas. The "white" dots in the center of the image at the bottom of the dirt road are 10 Cadillacs, ranging from a 1949 Club Coupe to a 1963 Sedan. They're all stuck bonnet first into the ground, and over time the ten cars have been ravaged by the elements and covered over with years of ever-changing graffiti.
Originally the cars were put there after an eccentric millionaire invited an artists' collective to help in the creation of a unique work of art for his ranch. Full story is here.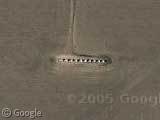 Thanks to Bradley Rex, Joshua Harrison, Ike, Vincent Kargatis, Peguinista and Richard.