Mall of America
Friday, 13th May 2005 by James Turnbull
Although not very interesting to look at from space, the Mall of America is the USA's largest mall. If you switch to map mode you can see that it's so big inside the building they've named the streets.
And if that's still too boring you can scroll north to Minneapolis / St. Paul Airport where a whole manner of planes are parked, landing and taking off.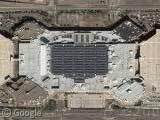 Thanks: Brandon, PikaPikaChick & a million others.