Mount Weather
Sunday, 29th May 2005 by
The Mount Weather Special Facility is an unacknowledged US Continuity of Government (COG) facility located in a huge underground bunker 45 miles west of Washington D.C., near Bluemont, Virginia. OK, there isn't high res coverage of the exact area but I love these secret bunkers :). The facility was built in the '50s as a relocation point for senior government officials in the event of nuclear attack or other national emergency. Today, the site also houses the Federal Emergency Management Agency's National Emergency Coordinating Center. Some other cool facts:
Total constuction costs, adjusted for inflation, are estimated to have exceeded $1 billion.
Tunnel roofs are shored up with some 21,000 iron bolts driven 8 to 10 feet into the overhead rock.
The entrance is protected by a 34-ton blast door that is 5 feet thick and reportedly takes 10 to 15 minutes to open or close.
Tunnels inside the complex accomodate 20 office buildings, some of which are three stories tall.
On-site 90,000 gallon/day sewage treatment plants and two 250,000 gallon above-ground storage tanks are intended to support a population of 200 for up to 30 days.
Loads more reading and higher res photos at FAS and GlobalSecurity.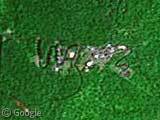 Thanks: John