Impossible Railroad
Monday, 25th June 2007 by Alex Turnbull
At the beginning of the 20th Century, San Diego needed a fast and reliable rail connection with the east to maintain growth and prosperity. Due to the hostile desert mountains it needed to negotiate on its way to Los Angeles eastward, the planned connection became known as 'The Impossible Railroad'.
It took the construction of 17 tunnels and 20 trestles to complete the most mountainous eleven-mile stretch, but the link was finally completed in 1919. However, when an earthquake destroyed one of the tunnels in 1932, the engineers were forced to chose an alternate route – which involved building The Goat Canyon Trestle.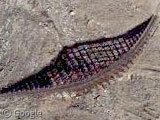 The trestle is an absolutely spectacular structure over 600 feet long and 180 feet high, which is described as the longest curved wooden trestle in the world.1
Apparently this route was closed in 1976 after extremely heavy rain, but recently reopened for freight. In fact if you follow the tracks far enough south/west, you'll pass lots of different tunnels, several smaller trestles, and you'll eventually come across a train.
See also: Our post about The High Level Bridge, and a more complete history of the Goat Canyon Trestle.
Thanks to James.
---
Or sometimes as the tallest curved wooden trestle… and sometimes only in the USA. It depends what website you read really. ↩