HMP Weare
Friday, 22nd June 2007 by James Turnbull
In 1997, due to vast overcrowding of the UK's prisons, the HMP Weare was moored at a disused Royal Navy dockyard in Dorest and converted into a prison ship.
The ship had started life as a troop ship during the Falklands war. She was then sold onto America before being brought back across the Atlantic to serve as a prison. Weare hit the headlines in 2003 when an inmate somehow escaped, and then again in 2005 when it was shut down due to the poor conditions.
She's now been sold onto a Nigerian shipping company, who plan to re-task Weare as accommodation for its oil workers. It was reported that many of the prisoners had little or no access to fresh air, so I'm not sure the oil workers will be very happy about their new home!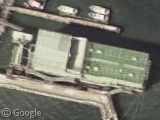 More info from the BBC and Wikipedia.
Thanks: Gearthhacks.