Ship Breaking
Monday, 21st August 2006 by James Turnbull
Ship Breaking is primariliry carried out in developing nations such as India and Bangladesh – as their laws on dealing with lead paint, asbestos and general worker's conditions fall far short of Europe and the US.
Chittagong Ship Breaking Yard in Bangladesh is mostly in low-res, but we can see a couple of ships here which have been beached on the mud flats for dismantling. All the steel from the ships is recycled and I think these are lifeboats.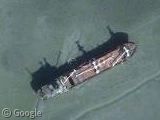 The workers here are mostly barefoot, have no safety gear and scrap the ships by hand. Greenpeace estimates that due to the potential for structural collapse on the ships, and the hazardous chemicals abound, one worker a day is likely to die. Edward Burtynsky's photos show just how perilous it is.
There's even more to see Alang, India, where workers can expect similarly awful conditions. Of note here's a huge end piece of ship and an aircraft carrier waiting out at sea.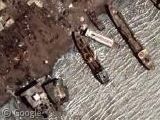 Further reading on Wikipedia and Shoback
Thanks: Nathan, John Kranick, dr_cy_coe, Glenn, Ken Przywara, russ