Underwater Plane
Friday, 18th August 2006 by Alex Turnbull
This is Normans Cay in the Bahamas, and lying submerged just under the surface of the water is a genuine 1980s drug smugglers plane! Here's a bonus underwater photo of the wreck taken by a guy who snorkled around it.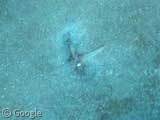 Normans Cay served as the headquarters for Carlos Lehder and George Jung's drug-smuggling operation from 1978 to around 1982, and this Curtiss C-46 Commando was used as part of their operations.
Thanks to aardvark2zz, the gearthblog and Ollie.