Pudong Skyline
Thursday, 17th August 2006 by Alex Turnbull
The skyline of Shanghai's Pudong district is dominated by two enormous structures: the 468 metre Oriental Pearl Tower and the 420.5 metre Jin Mao Building.
The striking looking Oriental Pearl Tower is the tallest tower in Asia, and the third tallest (self supporting) tower in the world (and naturally a member of the World Federation of Great Towers), lagging just behind the Ostankino and CN Tower.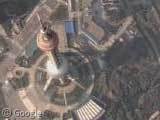 As well as the usual astonishing statistics asssociated with these huge buildings, the Jin Mao Building is home to a hotel that breaks several world-records. The five-star, 555-room Shanghai Grand Hyatt hotel which occupies floors 53 to 87 is the highest hotel in the world (in terms of distance from the ground), has the world's highest swimming pool on floor 57, and right up on floor 87, the world's highest bar, appropriately named 'Cloud 9'.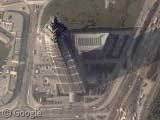 It also has the world's longest laundry chute, which runs down the full length of the tower to the basement (and incorporates buffers to slow down the laundry during its descent).
Wikipedia: Oriental Pearl Tower, Jin Mao Building, World Federation of Great Towers, List of World's Tallest Self Supporting Towers.
Thanks: Haochi Chen, Julien G, Babaganoosh, Christopher O'Connell, Scott and Ben.