Oil Leaking Ship
Tuesday, 24th October 2006 by James Turnbull
Please note that some or all of the objects mentioned in this post are no longer visible on Google Earth or Google Maps.
The last time we posted an apparently leaky ship, there was a little debate about whether or not there was oil in the water, but I doubt you can deny that there is certainly a oily haze around this container ship in Galveston Bay, an inlet of the Gulf of Mexico.
And, it might just be me, but can anyone else see Munch's The Scream in this thumbnail shot?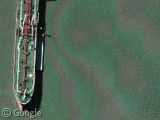 Thanks: Frank Taylor