Forbidden City
Wednesday, 22nd June 2005 by James Turnbull
Inside Beijing, lies the Forbidden City, the location of the Imperial Palace during the Ming and Qing Dynasties. It is the world's largest palace and features a six meter deep moat, a ten meter high wall, five halls, seventeen palaces and 800 buildings with a total 9,999.5 rooms. Quite big then.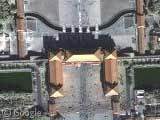 Tiananmen Square is just to the south of the Forbidden City and lies between two gates, the Tian'anmen to the north and the Qianmen to the south. This is of course the location of the Tiananmen Square protests of 1989 where hundreds of pro-democracy demonstrators were massacred.
The black splodges all over the Forbidden City and Tiananmen Square are the thousands or tourists who visit each day.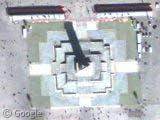 Thanks: Marc Armstrong, Nathaniel, Michel, Joseph Pantoga, Caius Toneriko, Keith T., Jaina Morgan, TOMHTML, Andrew Varvel, diz, Andy