Île Notre-Dame, Montreal
Wednesday, 8th June 2005 by James Turnbull
Île Notre-Dame is an artificial island on the Saint Lawrence River and is part of the city of Montreal. Along with Île Ste-Hélène the island hosted Expo 67, for which Île Notre-Dame was built using earth excavated for the Montreal metro in 1965.
To the east of the island is a long rowing basin built for Montreal's 1976 Summer Olympics which is still the biggest artificial rowing basin in North America. You can see quite a few boats in the basin and there are a couple more moored at the north end. In winter the basin is also used as an ice rink.
In the middle of the island is the Casino de Montréal, built in former the Expo pavillions of France and Quebec. Around the edge of the island is the Circuit Gilles Villeneuve, which is used once a year for the Canadian Grand Prix Formula 1 racing.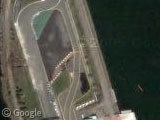 Thanks: Jonathan Cote, Kristian & Twombly