SBC Park
Thursday, 9th June 2005 by James Turnbull
Home to the SF Giants is SBC Park (formerly Pacific Bell Park). On full zoom you can just make out the giant Coke bottle on the east side of the stadium. It's not very clear but there is also a giant catchers mitt alongside the bottle.
To the south of the stadium is "McCovey Cove", named after famed Giants outfielder Willie McCovey. "Splash Hits" are when a player hits the ball all the way into the water and of 38 recorded Splash Hits 31 were by Barry Bonds. On game days the cove is filled with boats and kayaks hoping to catch a home run ball.
More info and a great panorama photo on Wikipedia.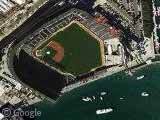 Thanks: Jim F, Roger & others