Montmorency Falls
Monday, 25th July 2005 by Alex Turnbull
At 83 metres high, the Montmorency Falls in Quebec are 30 metres higher than Niagara Falls. Apparently there are staircases that allow visitors to observe the falls from different vantage points… Not our vantage point though!
The falls look absolutely stunning from up here, but make sure you compare the Google image to the shot posted on Wikipedia so that you can really appreciate what you're looking at. Also note the suspension bridge over the crest of falls, where I imagine you really do get a superb view. (More info at Wikipedia)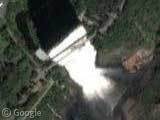 Thanks to Mathieu Jobin and Donald A. P.