The World's Largest Gantry Crane
Saturday, 30th July 2005 by James Turnbull
The 7,560 tonne world's largest gantry crane at Kockums AB shipyard in Malmö, Sweden also has the world's largest lifting capacity of 1,500 tonnes. If you're in Sweden don't bother trying to go and see it though as in 2002 the crane was sold to Hyundai Heavy Industries who dismantled it, painted it orange and shipped it off to their Offshore Fabrication Yard in Ulsan, South Korea.
The yellow floating crane to the northwest took part in the dismantling process, which you can see from the ground in these numerous photos. You can also see the Kockums crane at its new South Korean home in this photo.
And while we're on a roll with the big cranes scroll a few screens east for the largest floating crane in the world.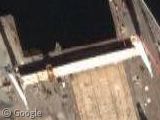 Many thanks to Lars Persson & Rickard Jensen