World's Largest Bug
Wednesday, 22nd March 2006 by James Turnbull
At 58 feet long and 928 times the size of an actual termite, Nibbles Woodaway (as he was named in a radio competition) is the world's largest bug.
The giant creepy crawly is attached to the roof of New England Pest Control and is dressed up in seasonal gear for July 4th, Halloween and Christmas.
Ground-level photos, and more information than you could ever care to read, on Quahog.org.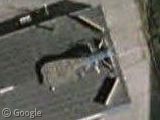 Thanks: Ron Vogel