World's Largest Christmas Shop
Monday, 21st December 2009 by Ian Brown
To get us in the holiday spirit, let's pay a visit to the world's largest Christmas shop - Bronner's in Frankenmuth, Michigan.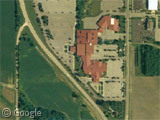 Officially named Bronner's CHRISTmas Wonderland (including the emphasis on "Christ"), the statistics are mind-boggling:
The building is 29,700 square metres
Parking for over 1,000 cars
More than 2 million visitors each year1
Annual sales of 50,000 different products, including more than half a million glass ornaments, 161 km of garlands, and 850 km of lights!2
After opening his first store in downtown Frankenmuth in 1954, Wally Bronner saw business grow to the point where - in the 1970s - he had to hire bouncers to control the crowds. A larger facility was constructed to the south of the city in 1977 and given the address 25 Christmas Lane.
Street View shows us that the huge grounds (or at least the parts that aren't given over to parking) are stuffed full of seasonal decorations.
While Bing Bird's Eye View captures Santa Claus red-handed, during one of his many seasonal housebreaking attempts.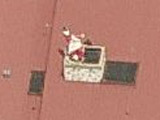 There's also an elaborate display of angels, who are depicted celebrating the birth of Christ (see closeup on Panoramio). While this may seem a little odd in the midst of such extreme commercialism, it does demonstrate Mr. Bronner's original intent, which he claimed was to show his faith through the creation of a business dedicated to the celebration of Christmas.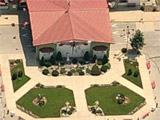 This religious aspect of the business is also evident in the Silent Night Chapel on the edge of the property, which is a replica of the Silent Night Memorial Chapel in Oberndorf, Austria.
The Silent Night hymn has been transcribed onto multiple plaques here in over 300 languages, which are displayed on the walkway towards the Chapel, and inside the story of Christ's birth has been translated into 30 languages.