Top Ten Google Sightseeing Posts 2009
Wednesday, 23rd December 2009 by Alex Turnbull
Another year is winding up here at Google Sightseeing, so here's a look back at the most popular posts from 2009.
1. Top 10 Street Views, April 2009
Following an absolutely massive launch of Street View imagery across Europe in March, one particular image attracted a lot of traffic to the site. It has since been removed from Google Maps, but others from our roundup remain; like the brilliant depiction of British people's astonishing ability to queue, even in the face of compelling evidence that it's utterly pointless.
Immediately after the European Street View rollout, this post also seemed to attract a lot of traffic. We're unsure why, but we do now know that Italian prostitutes are not in the least bit shy.
3. Top 10 Rudest Place Names in Britain
We're not sure what this post says about Britain and our place-naming methodology, but a lot of people seemed to find something amusing in places called Titty Ho, Crapstone, Sluts Hole Lane, Penistone, Dick Place, Minge Lane and Butt Hole Road.
Or was it just us that thought this was hysterical?
Earlier this month we also posted a follow-up featuring the Top 10 Rudest Place Names in America, featuring the brilliant Climax, Michigan.
src="http://www.googlesightseeing.com/wp-content/uploads/2009/12/17names.JPG" width="160" height="120" />
Yet more Street View! There were a lot of Europeans interested in seeing the things on that we found in the new imagery, and subsequently we've gained reasonably large following on our Twitter account, where we regularly post funny Street View sights that don't make it into full posts.
5. UK Celebs Caught on Street View
Yes, Street View really was popular this year… helped by comedian Dave Gorman, who quickly found himself in the new imagery. However it was a possible sighting of Top Gear's Stig that got people really excited, sorry Dave. To add more insult to Mr. Gorman's celebrity status, it actually turned out to be a cardboard cut-out of the Stig.
With the sad news of the death of the King of Pop, we posted another look Michael Jackson's famous Neverland property.
7. Top Ten Confusing Place Names
This brilliant roundup of the most ridiculously confusing place names proved extremely popular, featuring such classics as Smile, Okay, Uncertain, Goodnight, Nameless, Yell and Why.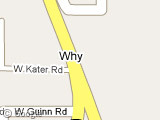 8. The Nonexistent Town of Argleton
Nestled in the Lancashire countryside, just to the south of Ormskirk, is the small town of Argleton. Or so Google would have us believe.
9. World's Largest Ship Graveyard
An absolutely astonishing look at the scale of the environmental and social catastrophe that is the world's largest ship graveyard in Mauritania.
10. News on the Google Street View UK Launch
People's appetite for new Street View just didn't let up did it? Many of these were immediately removed from Google's servers, but that didn't stop them getting into most of the UK Red Tops.
Judging by this list, it would seem that we wrote about nothing much but Street View this year, but in fact we posted over 220 new articles, which covered loads of really interesting sights. We hope to post a roundup of some of our favourites before the end of the year, and we'll be back in full swing early next year.
Happy/merry culturally and/or religiously appropriate festival/holiday!