World's Largest Santa
Tuesday, 23rd December 2008 by Ian Brown
We all know that Santa lives at the North Pole, and the World's Largest Santa can be found there too… that is, in the city of North Pole, Alaska.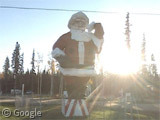 This 12m tall Santa can be found on St Nicholas Drive, outside Santa Claus House. He's less visible from above, so we're thankful that the Street View car visited (perhaps to drop off a Christmas wish list … freedom from privacy laws, cheap gas … ?)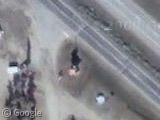 While actually 2700km south of the real North Pole, the city takes full advantage of its name, with other streets bearing seasonal titles such as Snowman Lane and Kris Kringle Drive. The streetlights on Santa Claus Lane are made up like candy canes, and the emergency vehicles are painted in Christmas colours.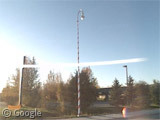 Thanks to Brandon.