Battle of the World's Largest Observation Wheels
Monday, 22nd December 2008 by Alex Turnbull
The Singapore Flyer is a 150 metre-tall observation wheel located on Marina Bay, overlooking Singapore's city centre – and for the moment, it holds the title of the world's largest observation wheel.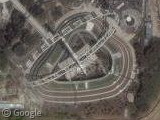 The next tallest observation wheel is the Star of Nanchang (sadly not-yet-built in Google Earth1, but here's a ground-level photo), which was the world's tallest from when it was built in 2006, right up until the opening of the Singapore Flyer in February 2008. This is odd, because at 160 metres the Star of Nanchang should never have lost the title!2
It transpires that the Singapore Flyer has been built on top of a three-story building, taking it to a total height of 165 metres and into the record books. What a con!
Observation wheels seem to be de rigueur these days3 – just last weekend Melbourne got in on the act with the 120 m Southern Star, which we can see under construction on Australian Street View.
Elsewhere, Germany is busy building the Great Berlin Wheel (location), which at a planned 175 m would take the title from the Singapore Flyer.
Unless of course China gets there first, as the Beijing Great Wheel (location) is due to be completed first, and will rise to a staggering 208 metres.
All of which is great news for the Great Wheel Corporation, who will then be the owners of all three of the tallest observation wheels in the world.
There's lots more at Wikipedia about the Singapore Flyer, the Star of Nanchang, the Southern Star, the Great Berlin Wheel, and the Beijing Great Wheel.
Thanks to John Andresen and Glenn Baker.
---
Although oddly, the DigitalGlobe imagery for the wheel's location claims to be from July and November of 2007 – and the Star of Nanchang was completed in 2006… ↩

Before the Star of Nanchang was built, the record holder was the previously featured London Eye. ↩

Presumably due to the prestige attached to having one, the cities who build these wheels insist on calling them "observation" wheels, but in effect an observation wheel is just a glorified ferris wheel. ↩