Battle of Britain Memorial
Wednesday, 1st March 2006 by James Turnbull
A large propeller is carved into the ground as part of the Battle of Britain Memorial at Capel-le-Fernenear near Dover, UK. At the centre of the propeller is a statue of a sitting airman looking out to sea and to the West is a full scale model of one of the Hawker Hurricane aircraft which took part in defending Britain from Nazi invasion.
More info and ground level photos.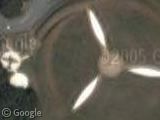 Thanks: Jan Brasna, & Panic!