Britain's Tallest Cow
Tuesday, 13th May 2008 by Alex Turnbull
The web is abuzz today with news that an English animal sanctuary has applied to the Guinness Book of World Records to have one of their bullocks, "Chilli", recognised as Britain's tallest cow.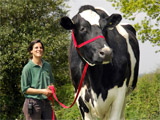 The giant Friesian apparently measures a staggering 6ft 6ins (1.98 metres), which raises the question - can we pick Chilli out amongst all the other cows at the Ferne Animal Sanctuary?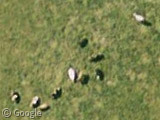 The current world record holder for tallest living cow is 6ft 8in Italian "Fiorino", who was unavailable for comment.
Also see our previous coverage of the World's Largest (model) Cow.
Thanks to Rob