New Imagery in Google Earth (May '08)
Wednesday, 14th May 2008 by James Turnbull
Just over a month since the last update Google have announced new imagery for Google Earth and Google Maps.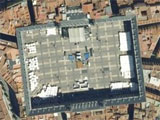 The full list of what's new is available on Google Lat Long.
If you'd like to be kept bang up-to-date with news stories like this, why not subscribe to our twitter feed, where we'll also be posting the best of the other sights that didn't quite make the cut for the main site!
Get suggesting those new sights!