Tanker spillage
Monday, 12th May 2008 by Rob
Just outside of Lebanon, Oregon, it appears that a lorry has shed its load of white liquid all over the road.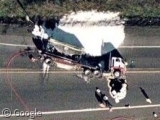 This could however be foam from the nearby fire engine, which may have been used to douse flames, or perhaps toxic or flammable substances. After all the spillage has been deemed serious enough to require the attention of multiple fire units, police cars and ambulances.
The road has been closed by the scene, and looking a few kilometres down the road, they've closed it off fully there as well.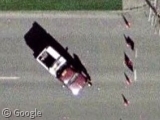 To me the liquid looks like paint, or something else that would leave that sort of puddle. Any ideas?
See our previous post Truck Spillage. Thanks to Michael L for finding this one.