Overturned truck
Friday, 11th January 2008 by Rob
In the town of Århus, Denmark, an articulated lorry seems to have taken the crossroads a little too fast, and has ended up on its side. The lane positioning suggests that it has just taken a left turn. Thankfully, the recovery services have arrived and a lorry transporter is ready to pick it up.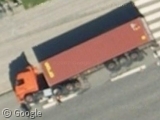 From the looks of it, there may be a pipe going from the recovery truck to the lorry, so maybe they are going to attempt an air cushion lift?
Check out previous lorry accidents here, here and here.
Thanks to Raskii at the Google Earth community.