Truck Crash
Monday, 19th March 2007 by James Turnbull
Oh dear, it looks like an articulated lorry has rolled over near Bismark. I hope no-one was hurt.
The lorry in question is owned by Jim Palmer Trucking, and was blown over by winds in excess of 180kph.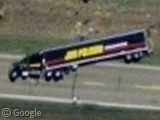 If, for some weird reason, you enjoy seeing traffic accidents from above, you'll love our previous post 9 (Possible) Traffic Accidents.
Thanks: a67
Updated: With thanks to Gary Powell and others in comments.