Trucks pulling trucks
Tuesday, 10th April 2007 by James Turnbull
When we recently posted a Truck Crash, there was a lot of unexpected discussion in the comments regarding my use of the term "articulated lorry". I thought it was perfectly normal, but it seems that many of our American readers had never heard the term before, and to them it was rather humorous. This then led to numerous offers of a preferred terminology for that type of truck.
While looking for an answer on the difference between all the names I, of course, visited Wikipedia's page on what they like to call "Semi-trailer trucks". It was here that I found this excellent picture of something I never even realised was possible: A truck pulling another truck, pulling another truck!
I was then even more surprised to learn that this is such a common occurrence someone has managed to find a three-way truck piggy back in Google Earth!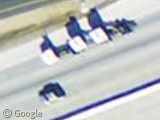 Of course, me being far from a trucking expert, my next question is this: is there a world record for number of piggy-backed trucks?
Thanks: SpiderX22