You! America Make Proud!
Monday, 9th April 2007 by James Turnbull
A farmer has written a giant message to the landing pilots of the nearby 549th Strategic Missile Squadron. The field says "You! America Make Proud!".
I'm not sure of the exact meaning of this cryptic message, I guess the most likely translation is "You nice folk make our country proud, cheers lads" but it could be more of a demand, such as "Oi! You there! Make the country proud or we'll be mightily upset!".
Either way, I'm sure the author's English teacher isn't very proud.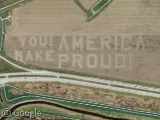 Thanks: Gearth Hacks