Santa Claus, Indiana
Thursday, 18th December 2008 by Ian Brown
Like the rest of the world at the moment, it's obvious that the 2200 residents of Santa Claus, Indiana, are totally immersed in the Christmas spirit.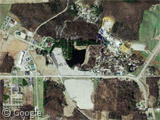 Originally named Santa Fe, the town had to change its name in 1856 when it applied for a post office only to discover that there was already another town with that name in the state. Wanting to keep the first part of the name, Santa Claus was the only thing the citizens could think of, though this history has since been embellished with tales of small children, snowy evenings and sleigh bells.
The town exploits its name as much as possible, with streets (Mistletoe Drive, Candy Cane Lane, not to mention a road for each of the reindeer), lakes (Christmas, Holly and Noel) and entire subdivisions (Christmas Lake Village, Holiday Village) following the theme.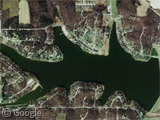 Holiday World is North America's oldest themed amusement park, having opened in 1946 as Santa Claus Land. The name now reflects the move to celebrate holidays (and attract visitors) throughout the year. The park includes numerous rollercoasters and other rides, as well as the Splashin' Safari waterpark, with the world's largest enclosed water slide.
The post office mentioned earlier (which is now located in a small mall, complete with Santa outside) came to notice in 1914 when the postmaster James Martin started to answer letters addressed to Santa Claus. Today, a team of volunteers respond to around 10,000 letters sent to Santa Claus from children around the world. The Santa Claus Museum is a couple of doors down.