Daisen-Kofun
Tuesday, 16th December 2008 by Ian Brown
Nestled in the bustling city of Osaka lie many kofun – keyhole shaped and mounded tombs or tumuli – the largest of which is Daisen-Kofun.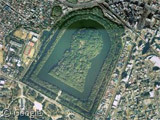 Daisen-Kofun is the resting place of Emperor Nintoku who ruled Japan in the early 5th century, with this kofun dated to 443AD. At 486m long and 305m wide, it is considerably larger than the Great Pyramid of Giza in Egypt. Protected by 3 moats and rows of trees, it is a silent enclave invisible from nearby roads, as Street View shows.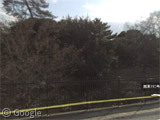 The 740 officially-designated Royal kofun are strictly protected against most excavation, but past research has shown that Emperors and other royals were buried with mirrors, swords, clay pots and other goods. It is believed that the tombs were originally covered with stones, but time and nature have provided a covering of trees.
There are several other kofun visible in the area surrounding Daisen-Kofun.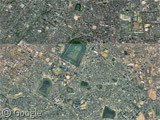 Estimates of the total number of kofun range from 10,000 – 30,000, with construction taking place between the 3rd and 7th centuries AD. In addition to keyhole-shaped kofun, researchers have discovered many round and square tombs, as well as a few octagonal ones. Similar tombs are also found in Korea.
Clusters of kofun are visible in several locations throughout Japan, including Nara City which does have a reasonable Street View.
To learn more, I encourage you to read this detailed history of the Kofun period.
Thanks to Matt Van Pelt, Norimasa Hayashida, Nao and Tetsuo Tanno.