Two out of Three views of Japan
Friday, 7th March 2008 by James Turnbull
The "Three Views of Japan" are just like the Seven Wonders of the World, except they're all in Japan. And there's only three of them.
Firstly there's "Matsushima", a group of around 260 miniature islands which are all covered in Pine trees (or "matsu", hence the name). The area is apparently so beautiful that Matsuo Bashō (considered by many the grand master of the haiku) wrote the following:
Matsushima ah!
A-ah, Matsushima, ah!
Matsushima, ah!
Well, perhaps Matsuo Bashō was having an off-day, or maybe he too had only seen Google's current satellite image - because from up here Matsushima looks like, well, a bunch of tree covered islands.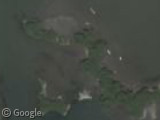 Our second View is thankfully more exciting, the Torii at Itsukushima Shrine, which has been created in such a way that at high tide it appears to be floating on the surface of the water, and seen from ground level with Mount Misen in the background is a truly spectacular sight.
Not that we'd know of course, as this satellite shot sadly looks a little like a couple of sticks in a pond.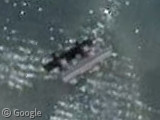 So, onto the final View of Japan! Well, we should be looking at a thin pine-covered sandbar called "Amanohashidate", except that it isn't actually on Google Earth yet...
Why bother seeing the world for real? Well, clearly these sights are better seen from the ground, but without the luxury of being able to go to Japan, we recommend that you check out this flickr gallery which really does contain some stunning images of all three of the famous Three Views of Japan.
Thanks to Stephanie and Dan W.