Orapa & Letlhakane Diamond Mines, Botswana
Monday, 15th December 2008 by Ian Brown
For our first post from Botswana, let's visit the communities of Orapa and Letlhakane, home to some of the largest diamond mines in the world.
While we've seen a "world's largest diamond mine" before, it is no-longer in use. Wikipedia explains that Orapa is currently the largest open cast mine by area. Each year, this joint venture between De Beers and the Botswana government (Debswana) produces 20 million tons of ore and 40 million tons of waste rock. The ore yields about 18 million carats of diamonds and $1billion in revenue!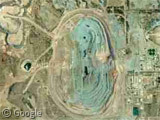 The town which has grown up very near the mine has schools, hospitals, a game park and an airport, all operated by Debswana to serve the population which has expanded rapidly in recent years.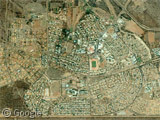 It also has fences – the entire community is surrounded by a network of defenses against anybody tempted to try to steal diamonds … which actually make Orapa a very safe place to live! I can only guess that the squares visible are fences with roads patrolled by security.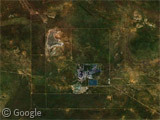 The processing facilities at Orapa also handle ore from other Debswana mines, including the one at nearby Letlhakane, which is quite spectacular in appearance, though much smaller – it produces only about 1 million carats each year.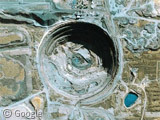 The community of Letlhakane is some distance from the mine, and not inside its square fences, so may not enjoy the same level of security.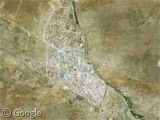 Thanks to Nonprophet.