Bingham Canyon Mine
Monday, 1st October 2007 by Alex Turnbull
This is the gargantuan Bingham Canyon Mine – an open-pit copper, gold, silver and molybdenum mine near Salt Lake City, Utah.
In full-scale production since 1906, the pit is over 0.75 miles (1.2 km) deep, 2.5 miles (4 km) wide, and covers 1,900 acres (7.7 km²), making it the largest open-pit copper mine in the world, and the world's largest man-made excavation.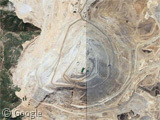 All along the road to the sensibly named mining town of Copperton, we can see the absolutely massive 3 million dollar dump trucks – which are among the largest trucks in the world. Used to transport the raw ore their huge size is a necessity, as by 2004 the mine had produced more than 17 million tons of copper – more copper than any other mine in the world.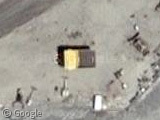 See these older posts for more mining related enormity: Casa Grande Copper Mine, Siberian Diamond Mine, The Longest Conveyor Belt in the World, Bucket-Wheel Excavators, Berkeley Pit, Tetraeder Bottrop and Lavender Pit.
Thanks to Dr. Ed Data, Kristian Twombly, Kevin Byrne, John S., Steve Hulet, Zachary and RodneyG