The Mines of Kimberley
Thursday, 28th April 2011 by Kyle Kusch
Since 1871, the city of Kimberley in the Northern Cape has been at the centre of the diamond-mining industry in South Africa. It was here that De Beers began its march toward a monopoly on the world's diamond market. The city instantly grew around the burgeoning mines, eventually surrounding many of the giant pits dug into the ground, which have today become tourist attractions in their own right.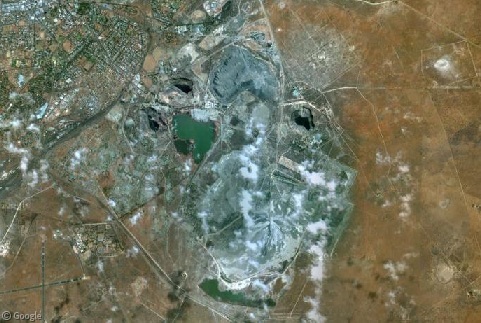 The most famous of the mines is the Kimberley mine, better known simply as the Big Hole. Between 1872 and 1914, the giant 17 hectare (42 acre) pit was dug to a depth of 1,097m (3,599 ft), which at the time made it the largest human-dug hole in the world. Since then, the pit has been refilled to a depth of 215m (705 ft), and a lake now occupies the bottom.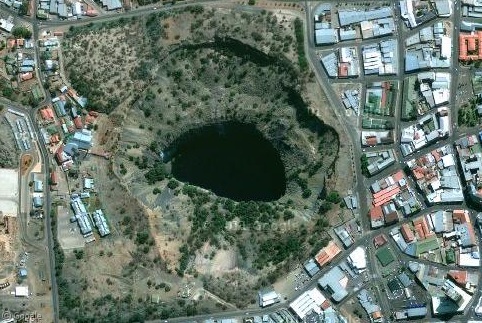 The Big Hole isn't the only huge pit in Kimberley; five giant mines in total were dug in and around the city. The Wesselton, Dutoitspan and Bultfontein mines operated right into the 21st century.
Here we can see a table plateau off in the distance – only that's not a table plateau but the edge of the massive tailing pile at the De Beers operation.
Many of those tailings are uses to fill in old mine pits, like this one just to the east of the city centre, where vegetation is once again beginning to take hold.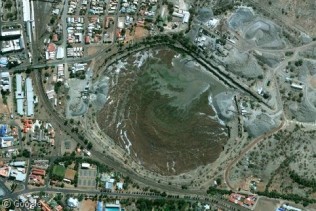 The giant pits and other mine sites are, naturally, fenced off for safety reasons. This fence north of the Big Hole has been covered in colourful murals by local schoolchildren (and colourful graffiti by others).
Kimberley is not just famous for its mines. One of the largest sieges of the Second Boer War took place here in 1899 and 1900, when residents were forced to take shelter in the mines. In one of the city's major roundabouts lies the Honoured Dead Memorial, fronted by the cannon Long Cecil, named for De Beers founder/British imperialist Cecil Rhodes.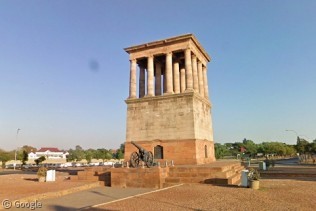 Much of the labour for the mines came from the outlying townships. The Street View car mostly avoided the poorer townships in the area, but does capture a few street scenes, such as this transaction at a tuck shop. The district municipality that takes in Kimberley was renamed in 2001 for Frances Baard, one of the major labour activists in the region during the apartheid era. A statue in the city centre commemorates Baard, but the Street View face-blurring technology evidently found the statue a bit too lifelike.
As Kimberley expanded over the years, much of the city's runoff was used to fill Kamfers Dam, an ephemeral pond turned into a protected wetland. In 2006, an artificial S-shaped island was built in Kamfers Dam which now hosts thousands of breeding pairs of flamingos each year.