World's Largest Saw [Updated]
Monday, 7th January 2008 by Alex Turnbull
Clearly visible thanks to an enormous shadow, this huge saw in Tokyo looks to be attempting to cut the city in half.
Unfortunately it seems that the person using it has gotten off to a slow start, and must have nipped off for some noodles and a bit of a sit down.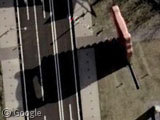 From this ground-level photo you can see that this giant saw really is very big, but also that it's actually a western-style plain-toothed Crosscut saw, and not a Japanese saw, or "nokogiri". I wonder why?
Update: Ron Vogel points out that this is actually "Saw, Sawing", a sculpture by the excellent public artist Claes Oldenburg, whose other works Spoonbridge and Cherry and Dropped Cone have been featured on GSS in the past. Ron also found a kml collection of all of the works by Claes and his wife Coosje van Bruggen, which is well worth checking out.
Thanks to Things in Jars.