World's Largest Passenger Ships – Updated
Monday, 23rd November 2009 by Ian Brown
We took a look at the world of huge cruise ships early in 2008. However, the recent launch of Royal Caribbean's MS Oasis of the Seas is changing the world of cruising.
This 360m long, 72m high behemoth weighing 220,000 tons was constructed in Turku, Finland, where unfortunately Google only has very low resolution images. However, we're fairly sure that the white rectangle in the centre of this image is the Oasis! Panoramio has numerous photos of the ship under construction.
Designed to carry up to 6,300 passengers and over 2,000 crew, this ship is almost 50% larger than the Freedom class vessels mentioned in our previous post. It is so large that, soon after delivery, it faced a major obstacle in the form of the Great Belt Fixed Link bridge in Denmark. The Oasis had to safely pass under this bridge in order to reach the North Sea.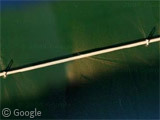 Her retractable funnels were lowered as much as possible, but still she had to build up speed to ride low enough in the water to pass under the bridge with less than 60cm to spare! A pair of YouTube videos show how perilous this was - from on board the ship, and from land.
After surviving this first test, the Oasis crossed the Atlantic to its home port of Port Everglades in Florida, from where it will cruise the Caribbean starting in December. It will be joined by a sister ship, MS Allure of the Seas, in 2010.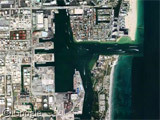 In addition to now-standard activities such as surf simulators and climbing walls, passengers will enjoy numerous ground-breaking cruise ship features such as an open air central park (with real trees and grass) running the length of the ship, 'loft' cabins and a bar which travels up and down between decks. There is also 25m zipline and a boardwalk (with carousel and tattoo parlour) leading to an outdoor theatre for aquatic shows with a spectacular backdrop of the open ocean.
Most cruises will call in at Labadee - Royal Caribbean's 'private island' - in reality a fenced-off peninsula on Haiti's northern coast, where workers are rushing to finish construction on a pier long enough to accommodate these new ships.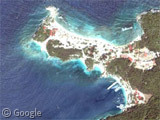 While this fake tourism would be unbearable by many, 500 locals directly benefit from employment or from selling their wares at the 'flea market', and Haiti's poverty-strapped government happily rakes in $6 for each passenger. At other ports, locals and visitors alike complain about overcrowding when multiple ships are in port on the same day. This new generation of ships may only increase this problem, as well as the usual environmental concerns of fuel usage and the effect on coral reefs and wildlife.
Marine Buzz has an excellent article about the Oasis, while USA Today has some great pictures of the construction process.