World's Biggest Passenger Ships
Monday, 21st January 2008 by Rob
In the past few years the competition has been hotting up to build the world's largest passenger vessels, resulting in huge craft which would dwarf ships like RMS Titanic. Today we're going to take a look at some of the World's Biggest Passenger Ships!
Floating off the coast of Conzumel, Mexico is MS Freedom of the Seas, the largest passenger ship in the world which weighs in at 154,407 tons and is capable of carrying 4370 passengers! Guests are entertained by 3 huge pools, shops, pubs and even a climbing wall. If you think your car has poor fuel efficiency, take heart in the fact that this behemoth uses 12.8 tonnes of fuel… per hour!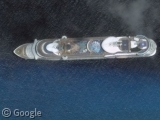 Freedom of the Seas was built in the Aker yards in Turku, Finland, between 2004 and 2005, and in 2007 her sister ship, MS Liberty of the Seas, was also completed there to exactly the same specification. Microsoft Live Maps' birds-eye feature has caught the construction in action, and it's extraordinary to see the work that goes into a ship of this size. Check out the helipad on the bow!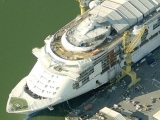 (Warning: Live Maps are still not compatible with Safari I'm afraid!)
Until Freedom and Liberty became the largest passenger ships in the world, the title was held by Cunard's famous RMS Queen Mary 21. At 148,528 gross tons she's only slightly lighter, but takes the distinction of being the longest at 345 metres, as well as the highest and also the widest! Here she is docked in New York City.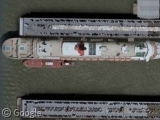 Moored in Florida is one of Disney's own fleet of two ships, Magic and Wonder. The two ships are almost identical, but I have it on good authority that this is Wonder. At 964 feet these are no record breakers, but I thought they were worthy of a mention!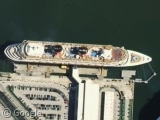 The ships generally cruise the Caribbean, where one of their main stops is one of Disney's own private islands, 'Castaway Cay'.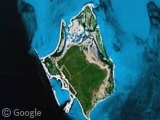 On board the ships there are some rather unique features for the 2400 passengers to enjoy, such as computer simulators to let you imagine you are guiding the ship, spas, and a whopping 24x14 foot LCD TV attached to the front funnel of the ship. However, what wins it for me is the main swimming pool, which of course is shaped like Mickey Mouse! 😀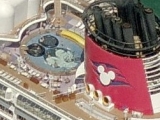 Read more about Freedom of the Seas, Queen Mary 2 and the Disney Cruise Line at Wikipedia.
Thanks to Joao Almeida, Rob B, Jolo Quina, Tim, Chris, adam wanderman, greg and orchjoe.
---
The RMS prefix is inferred on a vessel which is a Royal Mail Ship, such as the RMS Titanic. ↩︎