World's Biggest Aircraft Carriers
Monday, 3rd March 2008 by Rob
Following on from January's World's biggest passenger ships post, today we're going to be looking at the largest aircraft carriers on the water. These warships act as mobile airbases, allowing aircraft to be launched as close to the theatre of war as possible.
Starting with the largest, the undisputed Queen of the seas is the USS Enterprise, which takes the title of being the largest naval vessel on Earth (or water!), with a massive length of 342.3 metres.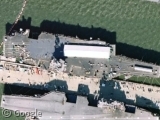 Enterprise is moored up alongside the almost-as-large USS Harry Truman and Roosevelt. Like the other seven of the Nimitz class carriers, these are 333m long. Roosevelt, nicknamed 'Rough Rider', was responsible for nearly 5000 tonnes of bombs dropped during the first Gulf War.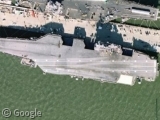 The Naval Station at Norfolk, Virginia, where these three ships reside when not on active duty, is actually the largest naval base in the World, with 75 ships calling it home - as well as having, incidentally, a huge amount of car-parking spaces!
The USS George HW Bush is the last in Nimitz class, before the new Ford class carriers start being built, and is named for former President Bush. Costing a whopping $4.5 billion, this 333m carrier is on track to be delivered this year. She is seen here in construction at the Northrop Grumman shipyard, also in Norfolk.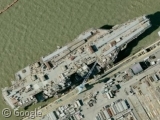 (You can see a Microsoft Live Maps birds eye view of it in construction here, but sadly it still isn't compatible with Safari!)
Back in 1957, the largest naval vessel ever built was the Forrestal Class USS Ranger, which measures 319m and is capable of carrying up to 90 aircraft aboard.
Ranger is seen here with Forrestal class USS Independence and the Kitty Hawk class USS Constellation, which have all been decommissioned to the Naval Air Station in Bremerton, WA.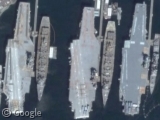 Now taking the role of the Sea, Air and Space museum in New York City, the USS Intrepid saw service from World War 2 right through to 1974, including in the Vietnam war, where planes would often be launched from her in intervals as small as every 26 seconds!
In late 2006 Intrepid was dragged out of the Hudson river's mud (with considerable effort) and transferred to Staten Island for repair work. She is expected to be back on display in September.
The most noticeable of Intrepid's aircraft is the Lockheed A-12, the precursor to the SR-71 Blackbird which is famed for flying from New York to London in 1 hour 54 minutes! You might recognise the plane from 'I am Legend', where Will Smith's character spends time hitting golf balls from her wing.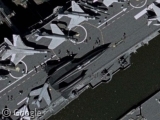 She may be just a wee tiddler at 214m (this photo shows a comparison between a Nimitz class ship and the HMS Illustrious), but it would be wrong to not include at least one British vessel! HMS Invincible was decommissioned in 2005, and is seen here at Portsmouth Harbour. She's definitely going nowhere - you can see her propellers lying on the deck!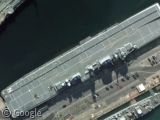 She was superseded by HMS Illustrious - found in dry-dock in Rosyth having a refit, which was completed last year. In 2014, the first of the new Queen Elizabeth class carriers, HMS Queen Elizabeth is due to enter service, at a much more substantial 274m in length. HMS Prince of Wales will join her in 2016.
Previosuly on Google Sightseeing: Carrier Landing Practice Runway and Landlocked.
Thanks: Andrew, Kevin, tsw and many, many others! 😀